Each month we highlight one of our regular makers, to give you an insight into their work, and to direct you to more information about them.
Kara Jewellery by Charlotte Tabor – Jeweller and Silversmith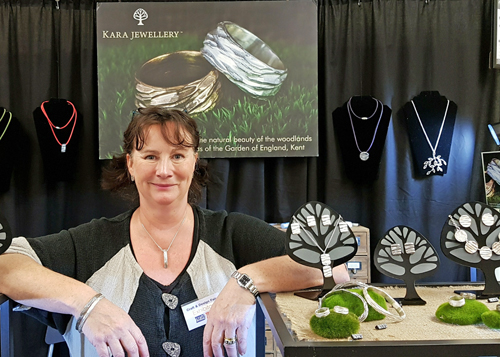 Charlotte gave up her job in the City of London after the birth of her first child and spent many years looking after her three children and various dogs and cats.  At the age of 46 she realised that she needed a new challenge and undertook an Adult Education Course in Silversmithing which led to a Diploma in Jewellery.  She called her business Kara Jewellery, the name Kara coming from the first dog (a golden retriever) she had when she was growing up in Cheshire
Charlotte's love of silver came from growing up with a mother who ran antique fairs and she'd often keep her company at them and remembers her mother picking up silver and complaining "there's no weight in that!"  If you've felt Charlotte's bangles, this is something that could never be said about her pieces!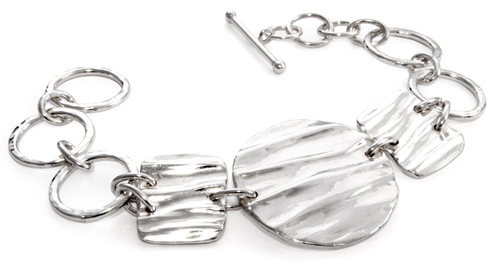 Charlotte now works from a studio at the bottom of her garden, surrounded by her beloved orchard with her dogs and Radio 2 for company.  Using old tools handed down by her father in law, she carves her pieces from wax to get a deep tree bark texture.
Charlotte's love for her home and her life experiences are expressed in her range of simple, yet contemporary jewellery which is designed to be worn and treasured every day.  The tactile tree bark texture and weight of her creations are made to evoke a feeling of calm as people go about their busy, stressful lives.  This sense of calm surrounds Charlotte when walking her two dogs in her beautiful orchard which is the inspiration for her work. Her designs can be worn and enjoyed by anyone who has a passion for nature.  If you love the texture then Charlotte can design and make something just for you, from jewellery to salt and pepper pinch pots, bookmarks and most recently a spirit measure for gin!
The texture and feel of the piece depends on the temperature of the wax as well as her mood and the pieces take on a life of their own, often evolving into something completely different from the original piece. Once the design is finished, the waxes are sent to a specialist company to be cast in sterling silver, bronze or gold using the ancient technique of lost wax casting, before being hand finished by Charlotte.  Many of her pieces are combinations of different components she already has in her collection to form new designs.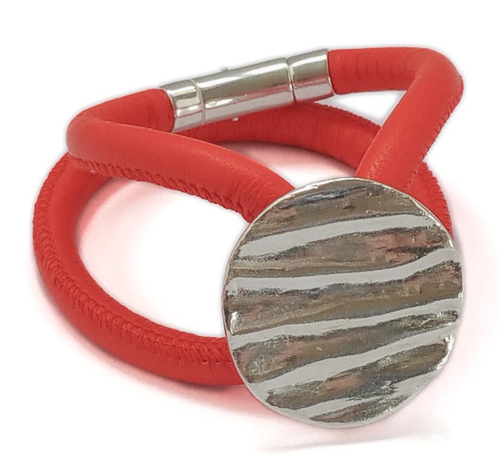 Charlotte says "Kara Jewellery is a realisation of my dream and I am loving every minute of my new life, creating jewellery inspired by everything I love in my life, running a business and meeting new and inspirational people."
Charlotte regularly exhibits at Craft In Focus events and can next be seen at the London Desire Jewellery and Silversmithing Fair being held from 2-4 March.
Her work can also be purchased from her website: www.karajewellery.co.uk