Each month we highlight one of our regular makers, to give you an insight into their work, and to direct you to more information about them.
Martyn Pugh – Silversmith and Jeweller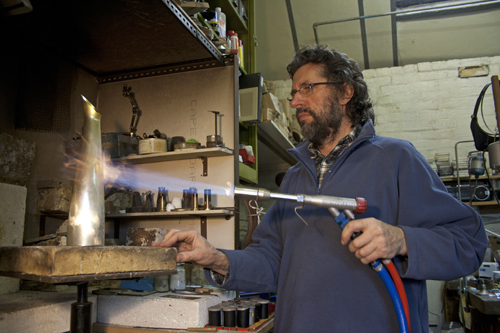 Martyn hails from a family of inventors, engineers and salesmen and embodies them all. After an education in the arts he embarked on a silversmithing career which sought to put beautifully designed objects into as many homes as possible.
This boundless enthusiasm coupled with a flair for design has led him to produce a vast array of silver and jewellery items in the last 40 years. He launched his career with a series of silver and glass decanters which, since then, have evolved into his signature 'Curve' Claret Jug. Elegant yet functional, the simple, clean lines and practical aesthetics of his work can be seen beginning here before evolving into his 'ARC' series.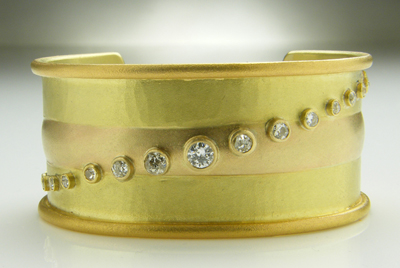 Through a fascination with metalwork on every scale, Martyn began producing jewellery very early in his career. The cute ranges of animal jewellery that he sold at small craft events eventually gave way to work in more and more precious metal. An early commission for a gold secret compartment ring which was accurately constructed to within 0.01mm (taking over two years to complete!) convinced him that jewellery could be every bit as complex and interesting as larger silverware.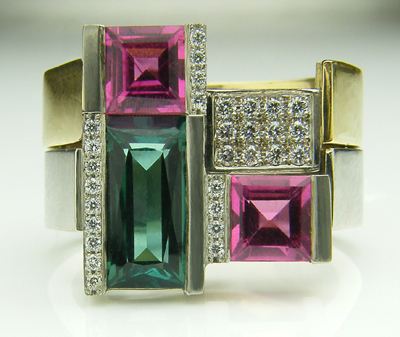 A recent piece draws on this by engineering rings to interlock in multiple ways. Martyn's Mondrian Ring pairs rose pink and deep green tourmalines with diamonds which are set in palladium and 18 ct yellow gold. The composition here allows the rings to be worn in five different ways by connecting them in alternate positions or wearing them alone.
His desire to push the boundaries of precious metals has led him to pioneer the use of a rare gold/titanium alloy and palladium on a silversmithing scale, making a matching pair of claret jugs whose gold and palladium surfaces contrast beautifully.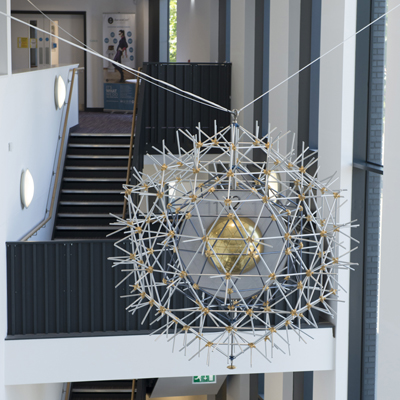 Five years ago Martyn embarked on his biggest project to date: collaboratively designing with Wally Gilbert and managing the construction of a sculptural clock for the Birmingham Assay Office. The two meter diameter Guardian timepiece now hangs in the atrium of the office, greeting visitors with the time. Modelled on the atomic structure of the synthesised gold AU-147, it has its roots in the history of the Birmingham jewellery and metal industry and an eye on the future too.
Martyn continues to produce new pieces for selling events throughout the year and is constantly working to commission including re-modelling clients inherited pieces. His work can be seen in many prestigious collections, including the Silver Trust Collection at 10 Downing Street and his enthusiasm for all aspects of his art has led him to be a Liveryman of the Worshipful Company of Goldsmiths, a warden of Birmingham Assay Office, a Fellow of the Royal Society of Arts and chief cake decorator of his children's birthday cakes.
Martyn will be exhibiting with Craft In Focus at the Desire Jewellery & Silversmithing Fair being held at Chelsea Old Town Hall from 8-10 March.
For further information please visit www.martynpugh.co.uk