About Us
Craft Shows with a refreshing contemporary twist!
Placed above all other shows of its kind in the UK - "50 of the best" The Independent
Discover an exciting alternative shopping experience
British made by talented craftmakers
No imported or mass–produced products
Purchase from those who have a real passion for the work they create
Discuss bespoke commissions with makers in a relaxed atmosphere
Craft in Focus events have earned an enviable reputation for selecting only the very best professional designers, artists and craftsmen for their individuality and innovation in contemporary design. Purchase from a stunning treasure trove of original and affordable designs created by some of the finest craftsmen and artists in the UK. Textiles, paintings, furniture, metal, leather, ceramics, jewellery, glass, fashion and more… See more images on our Facebook page.
Accessibility:
Events are staged at either indoor venues or in Marquees when at Garden venues. All events have full disabled access.
Tickets:
Tickets may be purchased on entry to the show and are generally not available in advance. However, advance booking is required for our fairs at both Hever Castle and Trentham Gardens in September 2020.
Why Visit A Craft In Focus Event: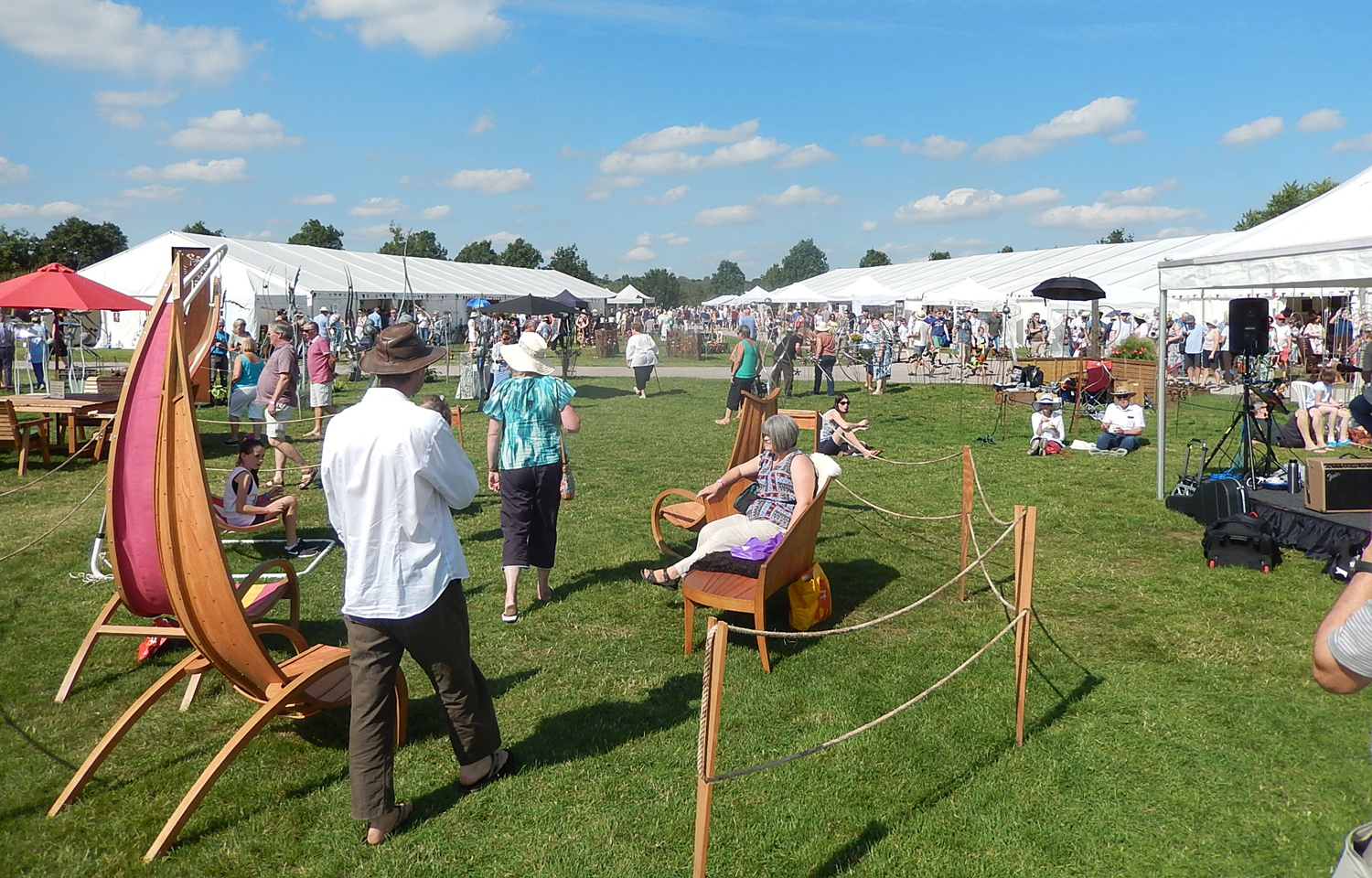 Our events have become widely recognised for presenting a stunning and varied choice of contemporary work. The fairs present highly talented exhibitors who have been selected for their superb and innovative craftsmanship and have a genuine passion for the work they create.
See and purchase from an exciting range from both emerging British talent as well as more established designer makers. Commissioning special items is welcomed from many of the exhibitors, allowing you to purchase something that is truly unique and special to you, and often offers an opportunity to be involved in the creative process.
Meet contemporary craftmakers to purchase something special that has been designed and handcrafted in the UK rather than mass-produced overseas.
Discuss the designs with the makers and discover how the work is created and what provides the makers with their inspiration.
Purchase unique products of a quality that is not seen amongst the mass produced items on the high street.
Our rigorous selection process ensures only the very best makers are selected, and our reputation for bringing together such a wealth of talent in one place is unrivalled.
Visitor Comments
"Lovely craft fair with stunning products for sale."
– M Barnett

"I can't get over their creativity and I can't wait for next year's event too!"
– B Harwood

"What a fabulous event, amazing artists. I think I stopped at every one. The quality of the work on sale is top notch and all British made, nothing imported."
– B Harwood

"The shows are always brilliant, never disappointing and we always come away with something."
– M Doel, Bordon