Each month we highlight one of our regular makers, to give you an insight into their work, and to direct you to more information about them.
Quo Vadis Jewellery – Handcrafted fine jewellery from Eddie and Sarah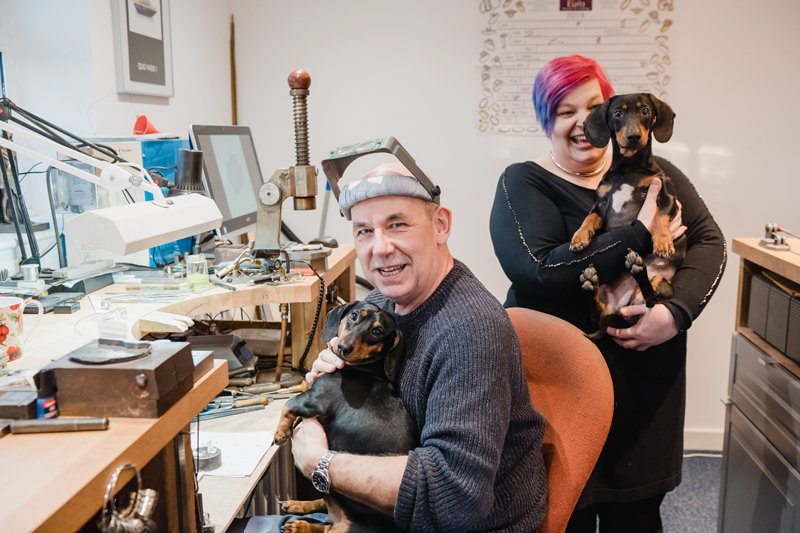 At the age of seven Sarah received a DIY tumbled gem bracelet from her brother's friend. She was obsessed! The shiny colours ignited a fire, she knew that working with gems and making jewellery would be something she would want to do forever.
This humble bracelet was the only costume jewellery Sarah owned. Her mum believed in fine jewellery and occasionally would take Sarah to the jewellers to choose something of value. Sarah remembers going to buy her first pearl necklace only to discover they didn't suit her and instead returned with a simple ruby ring, followed by other handmade pieces.
Not academically inclined and having already been working from the age of 12, Sarah tried her hand at many things with her sights firmly set on finding her way into a role that would vocationally teach her the skills to make her own designs.  Working for a jewellery company in Oxfordshire taught her the skills of the trade but by 23 she was already crafting her own designs to a dedicated client base and developing a name for herself at small craft events. 
This further fuelled Sarah into building her own jewellery brand of making jewellery for clients whose passion for quality gemstones and unique, handcrafted designs drafted from careful conversation and the stones themselves.
Edward Chapman, a diamond mounter/model maker in the jewellery trade in Birmingham's famous Jewellery Quarter for many years, started his making life at the dining table with his father. Jewellery making is the family business, as he comes from a long line of jewellers which he recently discovered having only known his father as a jeweller. His first apprenticeship was with his father at a small manufacturing firm aged 15. After 13 years redundancy hit and this spurred Eddie to set up his own shop as a model maker and diamond mounter for the wider trade whilst handling bespoke requests from other designer makers.
Sarah and Eddie met through one such job, and then another. Eddie occasionally worked on Sarah's pieces when she got stuck! Finally In 2010 they became a partnership and started Quo Vadis Jewellery together, combining design, craftsmanship and Sarah's obsession for gemstones.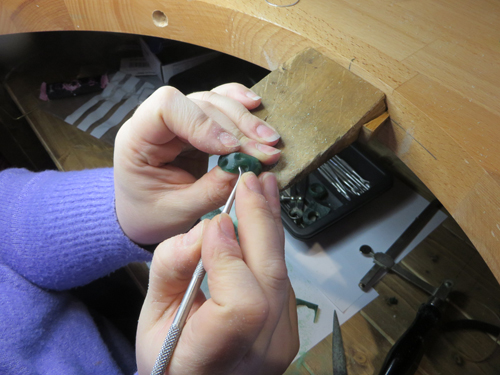 The collaboration of the two creates collector worthy pieces for clients looking for something personal. This can be a bespoke commission inspired by a stone, to the reworking of old jewellery turning the unloved into the loved again, into the new to simply falling in love with an original design straight from the Quo Vadis vault.
Today, Eddie is happiest at his peg, making Quo Vadis' own designs and commissions for private clients. He is also often accompanied by two mini dachshunds!
Usually, Sarah can be found in her own gallery in the heart of Birmingham's Jewellery Quarter, at various craft fairs around the country, and also making private visits to those clients that can't come to her, showing and selling the unique pieces that are unmistakably Quo Vadis Jewellery.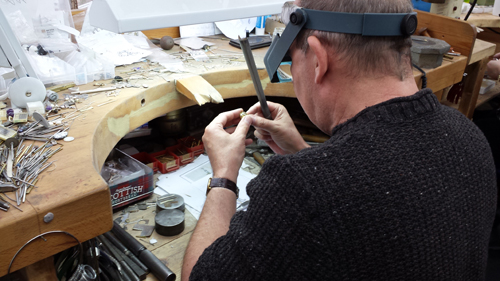 Quo Vadis will be exhibiting at the Desire Jewellery & Silversmithing Fair being held at Chelsea Old Town Hall from 8-10 March.
For further information please see www.quovadisjewellery.co.uk