Each month we highlight one of our regular makers, to give you an insight into their work, and to direct you to more information about them.
Deborah Kelly-Hopkins – Jewellery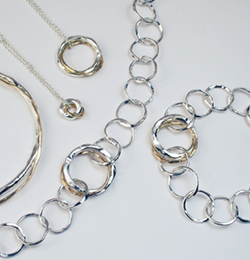 Deborah undertook an Art Foundation course in Amersham in Buckinghamshire and spent most of her time as a student in the forge making floor standing sculptures. At that time she had no idea how to make a living from this until a tutor suggested scaling the work down to make jewellery.
Deborah went on to study at Birmingham's School of Jewellery, winning the William Kendrick award for dedicated studies and on leaving started her own business as a jewellery designer/maker. In the beginning she sold her work through independent retailers and galleries and won the British Jewellers' Association Award for Excellence in Jewellery.
In 2006 Deborah moved to Cambridge to be with her now husband and opened her own jewellery shop. This gave her the taste for selling direct to the public and she loves the feeling of pride and joy she gets when someone falls in love with a piece she has loved making.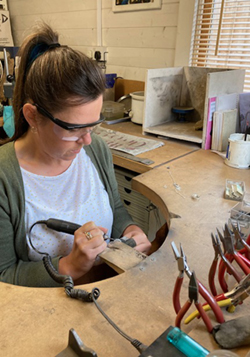 Since 2012, having moved into a purpose-built workshop at her home in Cambridge, she continues to sell through retailers, galleries and, also direct to the public through 'Craft in Focus', shows. At the shows Deborah is often asked to make pieces using gems from jewellery that has been passed down from relatives. She says, "It is always a pleasure to design something unique and one of my customers recently commented; it must be so lovely to have such a happy job, making people happy with the gift of your jewellery."
Over the years her collections have changed but, one thing stays the same and that is texture which is present in all her pieces. The inspiration for this comes from one of Deborah's favourite places - the chalk cliffs and sparkling sea of the Jurassic coast in Dorset, where she has stayed every year of her life on family holidays. The play of light on the different surfaces are captured in her rings and the white chalk and yellow sun are combined in the silver and gold pieces of the Modern collection.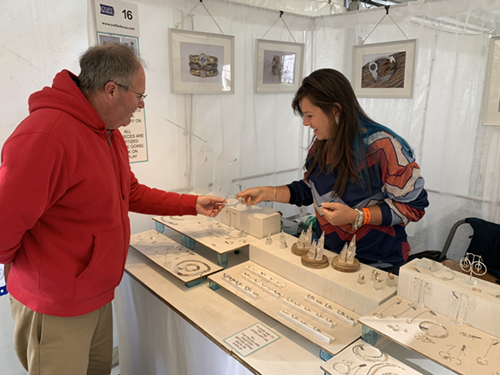 Making her jewellery from sheet and wire, the texture is applied first before cutting to length or forming round steel rods to make the chain links. To date the highest number of links, (and therefore, solder joins) in a chain is 105.
You can see images of Deborah making this chain and other pieces on Instagram @deborahkellyhopkins and her Facebook page (DKH Jewellery).