Each month we highlight one of our regular makers, to give you an insight into their work, and to direct you to more information about them.
Prue Biddle – Designer Jeweller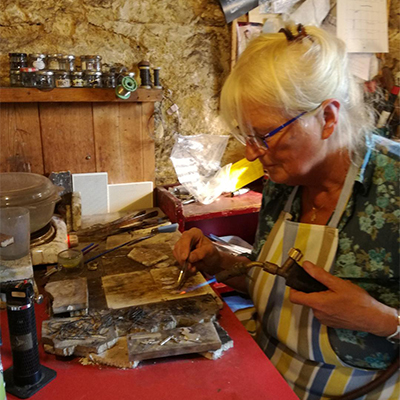 Prue grew up on a dairy farm in Somerset, the only child of a mother who was constantly exploring different media to satisfy her 'making gene' so Prue developed her love of making at her mother's side. However, her careers teacher at her rural girls' grammar school didn't encourage creative paths so Prue did a science degree and went to live in Australia for many years where she met her husband, watercolour artist Moish Sokal. They travelled together to South America and hit upon the idea of making jewellery from the delightful hand-painted beads they bought. Upon their return to Australia Prue found out that she was expecting their child so she bade farewell to science and applied herself more seriously to making jewellery. Over the next few years she took a number of short courses in silversmithing and jewellery making before taking to her workshop to see where her love of simplicity would take her.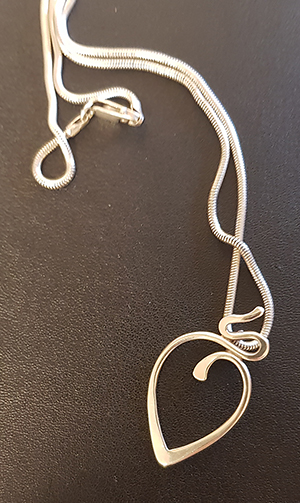 Returning to her Somerset home in 1990 Prue was excited to find the craft show scene. Starting in relatively small shows she was soon selling at shows throughout the south of England whilst developing the simple shapes that so characterise her work, at that stage in brass and, increasingly, silver. However, leafing through a craft magazine Prue was inspired by work using mixed metals and the lovely effect that could come out of that. Initially Prue was fusing small pieces of gold onto silver but one exciting morning an idea came into her head to use sheet gold pieces on the silver and to texture the whole piece. This technique continues to inspire and is used in much of Prue's mixed metal work to this day.
During this early time Prue made every piece individually, using traditional techniques and this has continued. Her half-hearted attempts at getting pieces cast always failed to inspire compared to the freedom to vary when making each piece is separately made. Whilst she uses some designs repeatedly there will always be some variation, especially the last few of a batch that can suddenly take off in a different direction as she discovers new inspiration.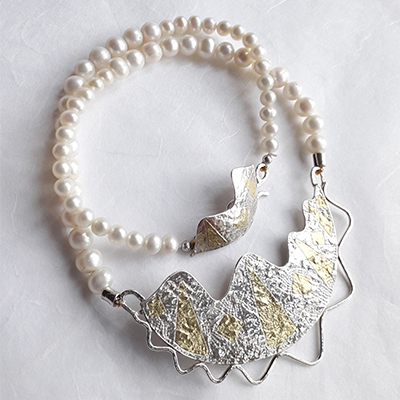 Another feature of Prue's work is her determination to make jewellery that is comfortable to wear. This is particularly relevant for bangles so as to avoid the irritation of an ill-fitting bangle rattling as you work on a keyboard. Prue makes silver bangles that open so you can put them on over your wrist. They can then be adjusted at a show so the bangle is the right size and shape to sit comfortably. Solid mixed-metal bangles (silver with gold) can be made to fit as people wish.
Prue describes her jewellery as 'to celebrate simplicity' and she now carries work in 9ct gold, silver and mixed metals, and is currently experimenting with various texturing effects.
Prue is exhibiting with Craft In Focus at Hever Castle (5-8 September), Crowthorne (25-27 October) and West Horsley Place (27 November – 1 December).