Each month we will be turning the spotlight on one of our regular makers, to give you an insight into their work, and to direct you to more information about them.
Hawkhill Hotworks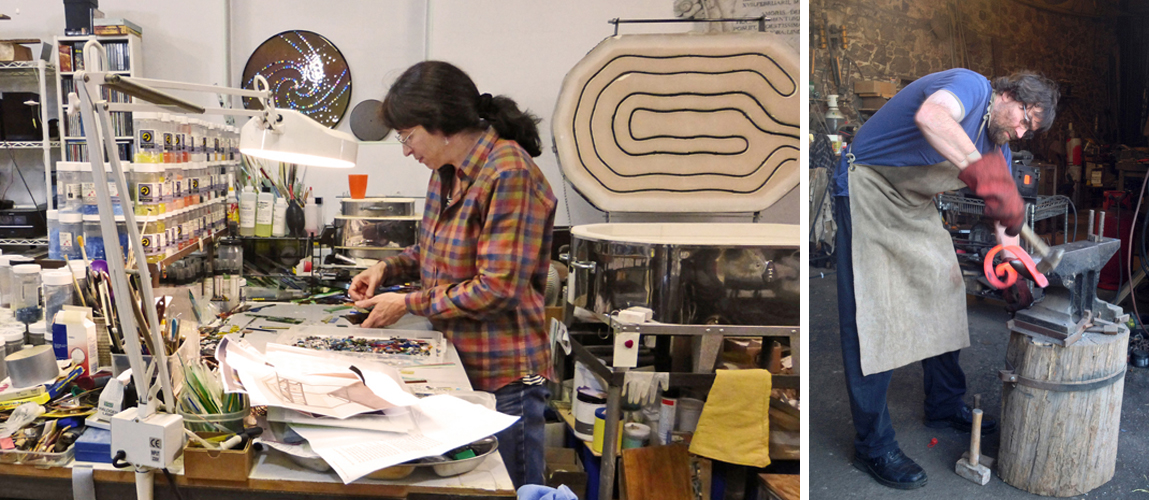 Colin and Lisa Badger have a partnership combining fused glass and metalwork to create distinctive designs in furniture and collectable objects, with an emphasis on the garden and a bohemian edge. The business name has been Hawkhill Forge & Art Glass, but more recently they have shortened it to Hawkhill Hotworks.
Lisa grew up by a historic forest park in New Jersey, and natural surroundings have always inspired her. Her background is in the arts from childhood, and after private fine art tutoring, attended Rhode Island School of Design and School of Visual Arts in NYC, continuing to a career as an illustrator, a (very) early practitioner and tutor of computer graphics, and apprenticeships in ceramics and glasswork.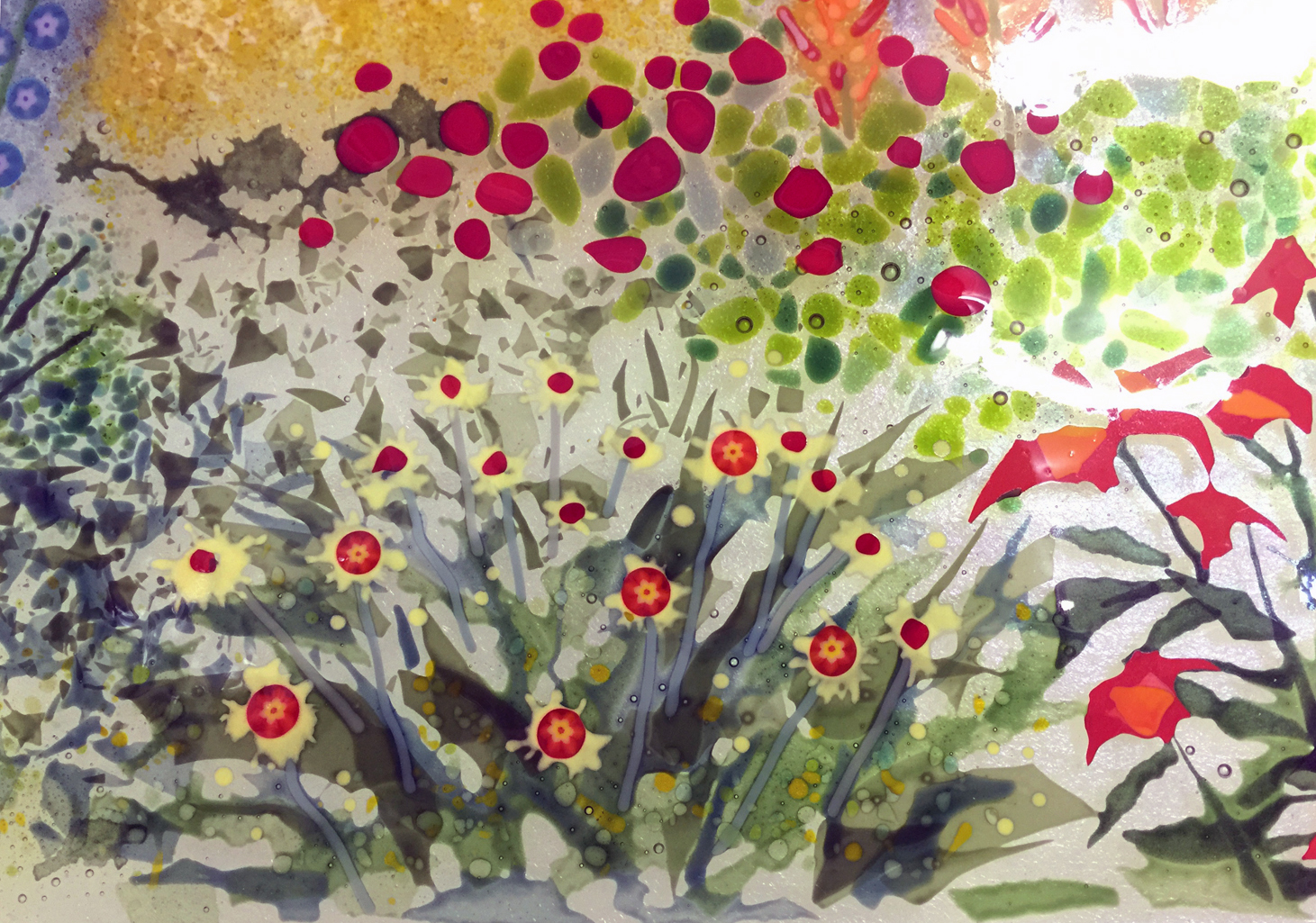 Her well-rounded experience gives her work an outward looking, adventuresome feel. Her influences have included the microscopic world and biomorphic forms (the Primordial Soup series), Japanese design, and tribal fabrics, as well as the natural wonders of coastal Angus, where the Badgers now live. Lisa considers her approach to fused glass as that of a medium for illustration, one that allows for an extra dimension in depth and permanence.
Colin has lifelong experience in all aspects of metalwork, taking on projects from copper cupolas and ornate railings to sheep pens, in order to perfect his craftsmanship. He grew up on a farm in West Somerset on the Exmoor border, coming from Yorkshire as a boy. He employs a practical and effective approach to problem solving in concept and fabrication, and has developed a natural instinct for common sense in design. His ornamental ironwork practice became more challenging when he teamed up with William Welch of Tendenze Design, and took on architectural iron projects for some of the wealthiest clients in suburban NJ.
Colin and Lisa met in 1998 at a music festival in the Cotswolds, where Lisa was visiting as a weekend musician. After commuting from New Jersey to Somerset and back, they married in May 2001. They bought a forest property west of NYC, and Colin continued with his ironwork while Lisa worked as an illustrator in the city. After 9/11, Lisa decided to commit full time to her glasswork.
Experience in their disciplines helped ideas flow, and soon they were combining fused glass, iron and brass for their new furniture collaborations. They focus on achieving well-crafted, functional and original designs, and guiding initial concepts to results. They truly enjoy sitting around after a meal and working up new creations. Lisa has been known to literally wake up with a new idea, which is then batted around at breakfast. They also get interesting requirements from clients, finding commissions take them in new directions, as well as keeping them informed about current trends.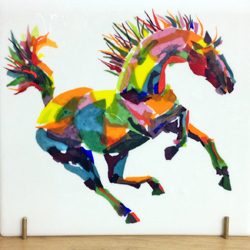 The Badgers were selected for the prestigious Philadelphia Furniture Show 2004, something they were proud of, as the show's focus is mainly fine woodwork. After many interesting shows along the east coast they relocated to Scotland in 2005. They bought stone barns at Hawkhill in Lunan Bay, Angus, Scotland from a friend, which they are slowly renovating into a house and workshops. Lisa does her glasswork in a retired Church of Scotland near the beach. The newest of her four kilns was custom made for her this year.
A recent client is Queen Anne's School on the Henley border, where Colin and Lisa helped realise a redesign including entrance tables, fused glass in the front windows and entrance door, a ten seat headmistress's table, and two 11 foot tall street lamps which the Badgers re-created from blurry photographs supplied by a historian of the original lamps removed in 1935.
Their work can be seen at the next Craft In Focus event at RHS Garden Hyde Hall from 25-28 August.
You can see more of their work on their website www.hawkhillhotworks.co.uk
And you can also find them on Facebook