Each month we highlight one of our regular makers, to give you an insight into their work, and to direct you to more information about them.
Anton Todd Ceramics

Anton is a largely self-taught potter. He develops pieces of work that are based around his love of the sea in all weathers. He is also fascinated by harbours, the boats that they shelter and the buildings that nestle around them. He says, "I see connections and ideas in many surprising (to me) ways, sometimes almost unconsciously and transform these into possibilities. Although a keen reader of fantasy, this does not play a major influence. All of my work is based on reality; I have been there and seen these places!"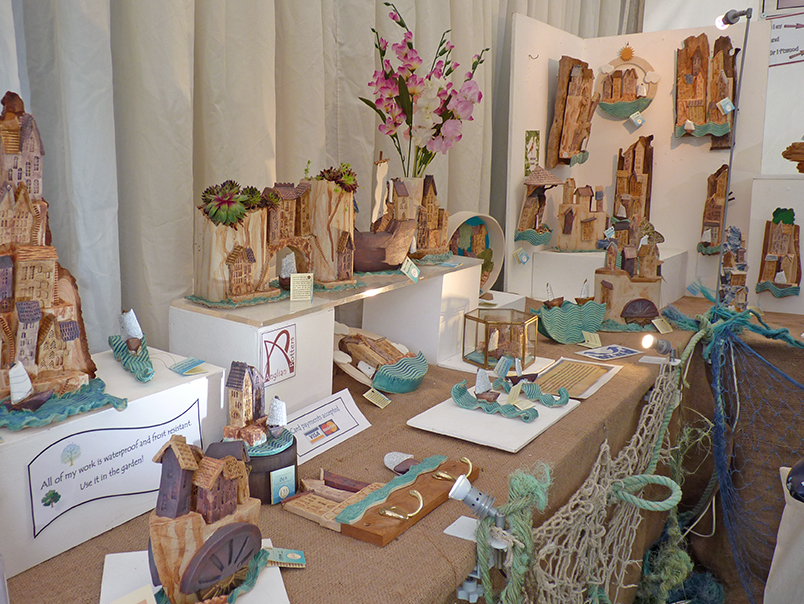 Anton first came across clay when he was training to become a teacher. He says that his entire school life had been devoid of this superb material. He did a short course in ceramics, as part of his Creative Design studies, with Mary Rogers as his tutor. She inspired him, and from that day forward he loved everything to do with the material. Anton says, "If you have never experienced working with clay then your life has something fundamental missing. It is not everyone's favourite material and in fact, I once taught a girl who couldn't stand to touch it however, it is a material that allows the real you to express itself while at the same time guiding you on a wonderful journey."
Anton developed his ideas and produced various pieces. However, as is quite often the case in life, a full-time career in teaching and the arrival of two children meant this stopped for a while.
Twenty six years later he retired from teaching and joined the Anglian Potters organisation. He says, "I was very apprehensive after such a long period with clean hands. However, as soon as I delved into some beautiful, soft, squidgy clay the small flame lit my main burner and I started to produce work again. What people see in my work are the results of playing around with ideas and also playing with mud!"
Anton freely admits that the real impetus for his work came from two of his favourite potters, Bryan Newman and Ian Gregory. Bryan Newman's early hand built work struck a chord with him that has lasted for a long, long time. Ian Gregory's work had a similar effect. Both potters were drawn to architectural forms such as bridges and buildings.
In 2013 Anton moved to the Norfolk coast and can look out at the sea from his house. He can also collect driftwood which has become a major source of inspiration and now forms the basis of much of his work. Although now living so close to the Norfolk coast, much of the inspiration for his work comes from childhood holidays spent in Devon and Cornwall.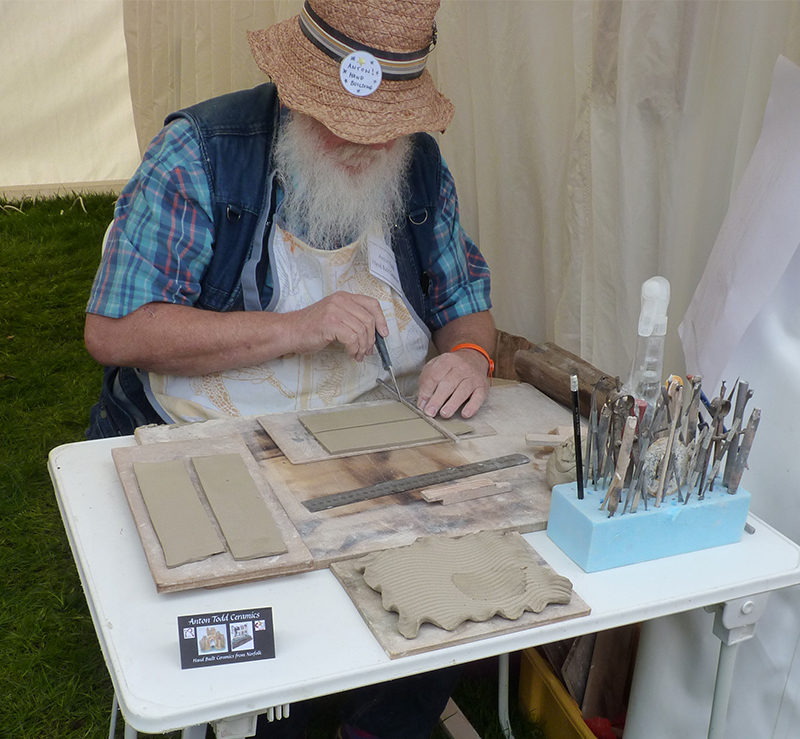 Although Anton can throw he tends to use hand building for all of his work which is a slower and more deliberated way of working. When he first started making his buildings, he used to painstakingly slab-build each one. He now use a small extruder which 'squirts out' square or rectangular tubes to which he adds doors and windows with simple wooden stamps that he has made. He then adds a roof textured to look like tiles from two small slabs of clay. He works from a general plan for each individual piece but can alter the design as he is building.
Examples of his work can be seen in the Fire and Flux Ceramics Gallery in Norwich and at the events that he does with Craft in Focus. He has also been selected to show his work at the Craft In Focus Celebrating Ceramics Festival at Waterperry, Oxford in 2021.
You can see more of Anton's work on his website.