Each month we highlight one of our regular makers, to give you an insight into their work, and to direct you to more information about them.
Yu Lan Burkmar – Jeweller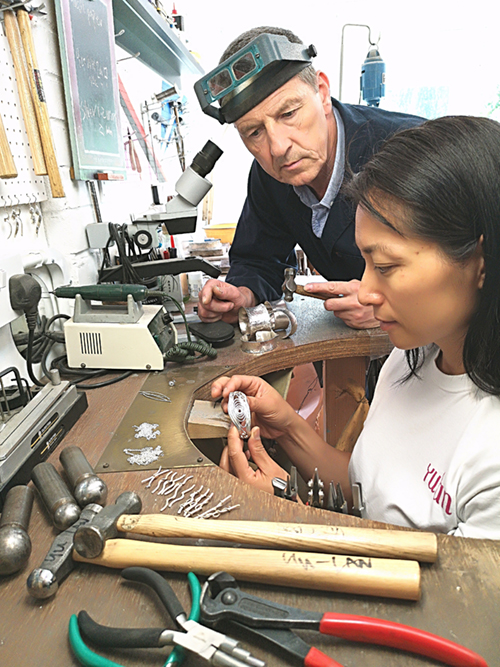 Yu Lan's father is a jade specialist in Taiwan and she came to England in 1997 to study jewellery design with a view of helping him in his business. Yulan first attended collages in both Rochester and London Metropolitan University and achieved her MA. During her studies she won several Goldsmiths' Awards for both Design and Finished Pieces. In her home country Taiwan, she won the "Best Contemporary Jeweller" award whilst in 2007 was named winner of Best Emerging Designer in Platinum.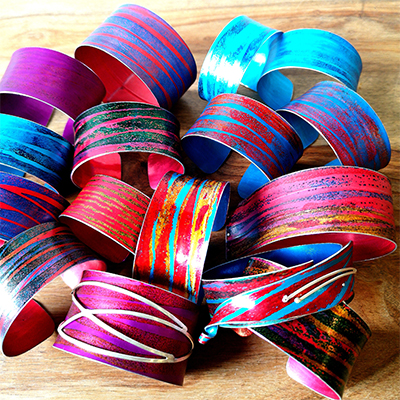 In 2002 she met her now husband Paul, also a jeweller, and started a new life in the UK. They worked from a retail showroom "Burkmar Jewellery" in Leigh on Sea, Essex for 16 years and supplied their own designed and made jewellery collections to over 50 shops and galleries around the UK and Ireland. In 2018 they moved to a purpose built workshop in nearby Hadleigh, Benfleet. This enabled Yu Lan to exhibit at Craft In Focus events and to start to express her more creative side.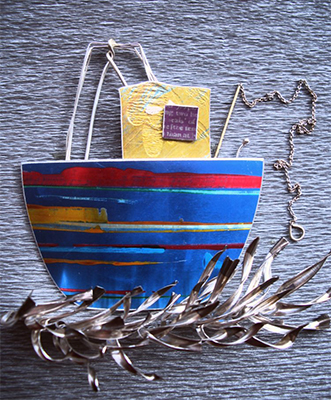 Her jewellery is made from anodised aluminium and silver and she uses the off cuts to up-cycle into artwork collages that have taken on a life of their own over the last few years! Yu Lan states:
"Inspired by the cockle fishing fleet of my home town of Leigh on Sea, creating these collages brings me immense pleasure. It is wonderful to use recycled jewellery, anodised aluminium and a variety of silvers, from our own workshop. The eclectic mix of materials ensure that each creation is truly unique and is as individual as our jewellery strives to be."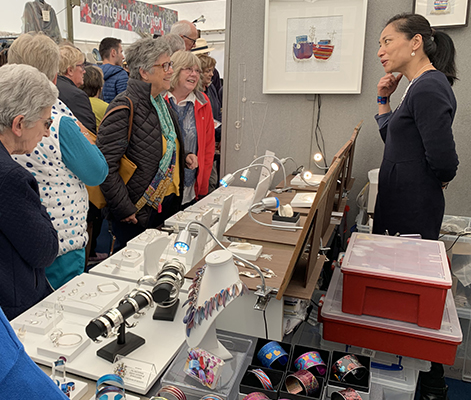 Burkmar Jewellery collections feature two main techniques.
White Cooking
The silver used in Yu Lan's jewellery is Britannia Silver which is 95.8% pure as opposed to Sterling Silver which is only 92.5%.Yu Lan uses this as its increased purity helps us attain the "white" colour that is very much part of its design. The whiteness itself is achieved from this silver by a process known as "White Cooking". This involves annealing the metal which will raise to the surface the fine silver content. Then, after cooling, it is cleaned in a high concentrate sulphuric acid that, when repeated several times, creates its matt, unspoilt white effect.
Anodised Aluminium
The aluminium is "pre-anodised" which means it has been treated with an electrical current to break the surface enabling paints or dyes to be stained onto the metal. This Yu Lan does by painting or printing by hand, sealing the colours permanently by boiling the sheets in water. The jewellery itself is cut and formed by hand from the small sheets prepared.
Yu Lan's work can be seen at the Craft in Focus Fair at Hever Castle, 10-13 September 2020.
You can find more about Burkmar Jewellery on her website.