Each month we highlight one of our regular makers, to give you an insight into their work, and to direct you to more information about them.
Darby & Jones - Garden Sculptures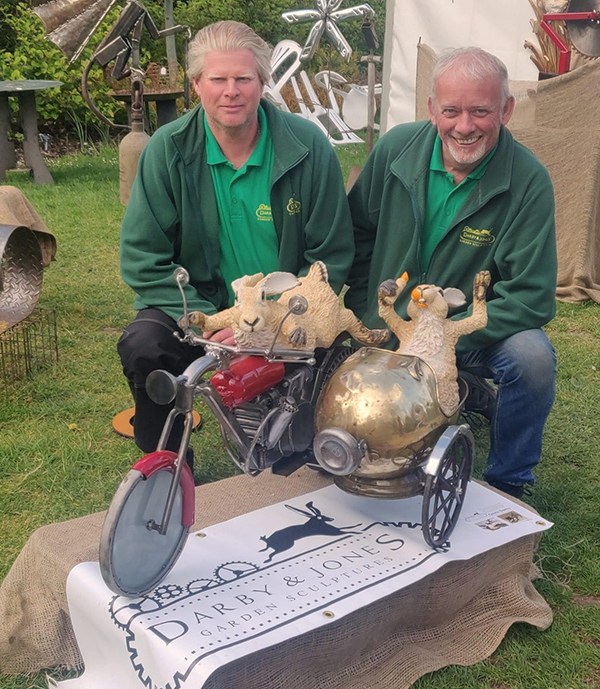 Darby & Jones create beautiful, comical garden sculptures combining the skills of two people.
Gavin says "Once people stop laughing the first question is 'Are those your real names?'! And the answer is 'yes'."
Gavin Darby was born in Essex and escaped with his family. Now based just north of Nottingham, with a cluttered studio in Ilkeston, Derbyshire he works with scrap metal creating new sculpture from old tools, broken bits of machinery and anything that will take a weld. After a career that has wandered from catering and the civil service chance gave him the opportunity to sculpt.
Garry Jones was born in Birmingham (but insists he's Welsh really) and after moving around the West Midlands now lives and works in a marginally tidier studio on the Shropshire/Herefordshire/Welsh border. His career spans vinyl stickers and event fitting. After much modelling in polystyrene ("it gets everywhere") he began to play with clay. He's lost count of the number of small ewes he has made over the years, but customers are still looking to increase their flock. From his hands come a range of animals, some serious, but mostly pun based creatures to make you smile, or wince.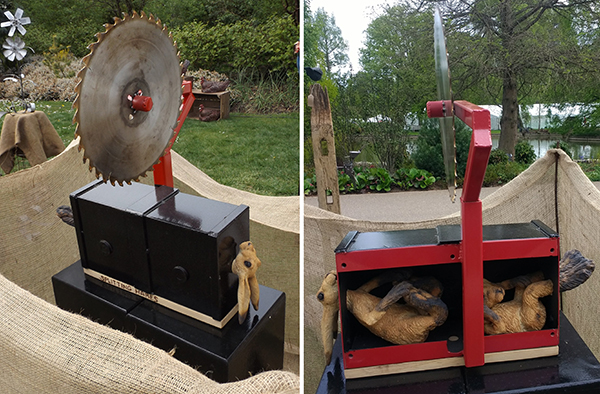 Gavin and Garry met at the British Trade Craft Fair over ten years ago, and found a shared sense of humour. Over the years they helped each other load and unload at countless shows. Fate seemed to move the stands closer together, and during those quiet times they chatted. During 2017 Gavin had an idea. He wanted to make vehicles but they need a driver. Garry wanted to make garden pieces, but they need a plinth to help them stand out. As the problem was discussed the light bulb came on. A meeting of minds and the name was obvious. With the shared love of puns Darby & Jones was born.
The logo reflects the inspiration. Gavin is more mechanically based, where Garry has a strong feel towards animals. He says "The hare is an amazing creature. Physically it looks a little comic as it sits, with slightly too big feet and ears, but as it runs there is a flow as everything just works. And then there are stories and myths. And of course a name that is made for word play!"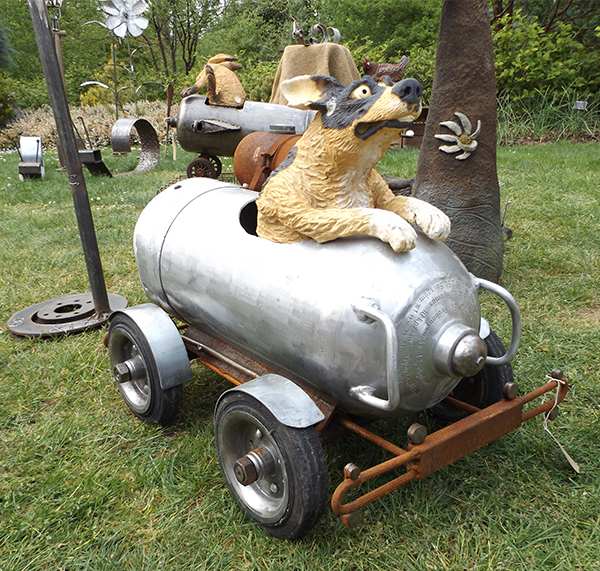 Although the studios are 100 miles apart the collaboration succeeds with a little planning and many phone calls. It turns out that the National Motorcycle Museum is between the two studios, and has a nice cafe with a car park. Quite what their Security Officer makes of the meeting in the car park as weird planes and cars are transferred between vehicles remains a mystery!
Some pieces are created by Gavin finding a broken tool that is just crying out to be turned into a plane – Garry added a hare – and a harecraft appeared. Garry loves to find things – like the coal scuttle that he saw as a sidecar, but just needed the motorcycle. Sometimes those after show chats take a turn, plant a seed, which grows and out busts a sculpture like the infamous 'splitting hares'.
Darby and Jones and their wonderful sculptures can be seen at RHS Garden Hyde Hall from 17-20 September and at Trentham Gardens from 24-27 September.
For further information, see their website.