Each month we highlight one of our regular makers, to give you an insight into their work, and to direct you to more information about them.
Rhian John - Artist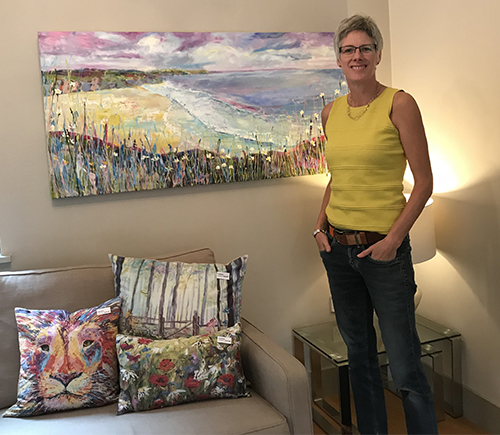 Rhian's energetic and vibrant paintings are packed with colour, they hang on walls around the world and people tell her they make them smile!
After graduating from De Montfort University in Leicester she followed her artistic career in graphic design (a long time ago before computers) where mock ups and artwork were all hand drawn. After a long career she missed having paint on her hands as everything had moved into the very clean world of computers.
About 8 years ago her eldest son was completing his A level art and she was watching him paint, thinking how much she missed it. So she dug out all of her paints and has never looked back. She loves bright colours and the amazing tones we find around us every day. Using acrylics, she paints landscapes, florals and animals too, taking inspiration from her roots in Wales as well as the glorious Hampshire countryside and the south coast.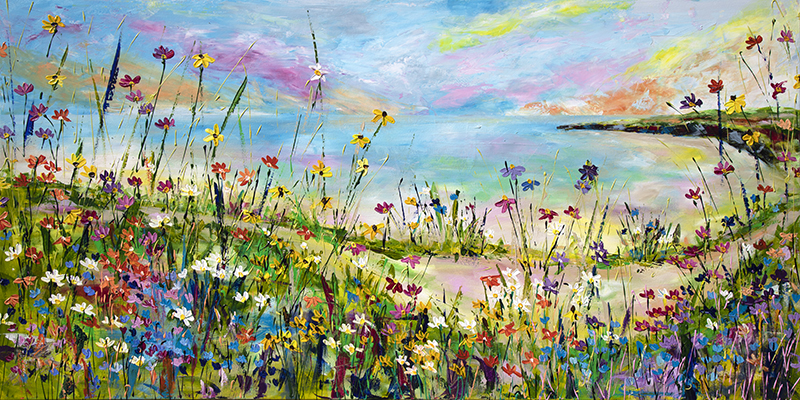 She makes up her subject matter, but loves the beach so there is always a picture in her head just waiting to come out. Her version is just more colourful than the real thing. She sometimes thinks her eyes don't work properly as she seems to see so many colours but she's very happy with that! She also paints animals in the same colourful style, this is very popular for commissions of pets so she will work from a photograph for these.
Her following has increased dramatically over recent years via word of mouth recommendations, exhibiting across the country at shows and via her website. From demand she has increased her product line to include cards, prints, cushions, phone cases, placemats and coasters. She finds social media a great way to keep in touch on a daily basis with her customers.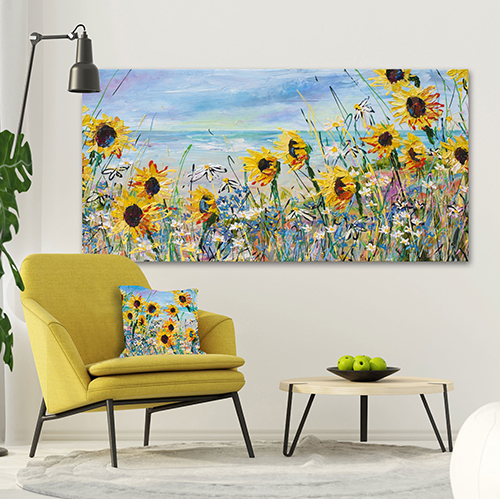 Her studio is at home in Winchester, where customers are welcome to visit, just call first to check she's there!
During recent months she has sold prints, cards and originals to raise funds for the NHS Charities Together Covid 19 appeal and has so far donated over £4500 and she's still going!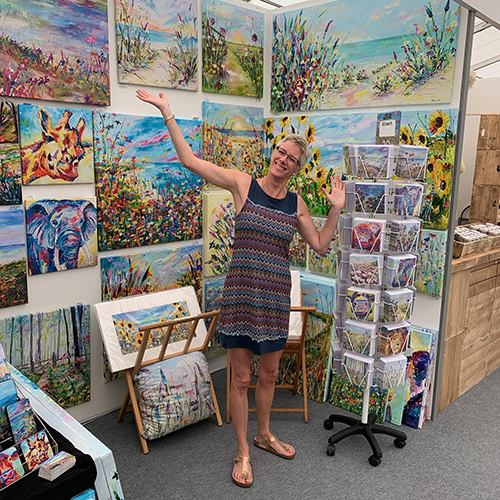 You will often see her at Craft in Focus events usually with her husband 'Mr J' lending a hand. Although she now lives in Winchester she will always be a Cardiff girl at heart, particularly when the rugby is on!
Rhian John will be exhibiting at RHS Garden Hyde Hall from 17-20 September and at Trentham Gardens from 24-27 September.
For further information, see Rhian's website.