Each month we will be turning the spotlight on one of our regular makers, to give you an insight into their work, and to direct you to more information about them.
Hats by Ian Wright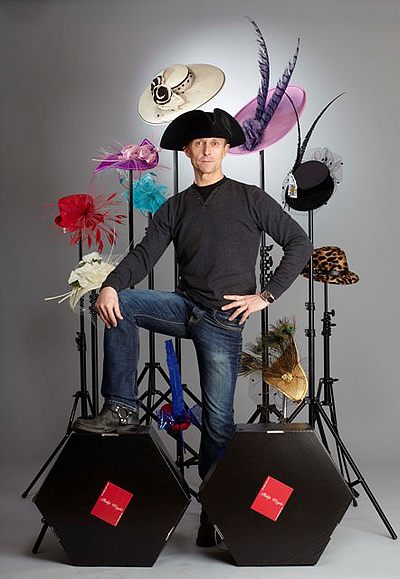 Ian Wright has been running the family business, Walter Wright, for over fifteen years. The company was formed in 1889 by his great-grandparents, Walter and Minnie-Susan Wright in Luton and the Wright family has been involved in the making of quality ladies' hats for over 300 years. Now all manner of modern and exotic fabrics and trimmings are sourced from across the globe to produce today's hats and headpieces whilst maintaining the traditional methods, quality and craftsmanship of the family's heritage.
At school Ian liked acting and entertaining so feels he has landed the perfect job! Ian was invited to learn about the value of pocket money by his father by working in the factory during the school holidays from about the age of seven but his love and appreciation for the theatre of hats started in a cafe in Greenwich when he was about 19.
After a motorbike accident whilst working in London he had to return to his family to recover and, whilst there he pottered round the factory designing and making a hat for a National Young Designer Competition (inspired by Bill Wyman's 'A New Fashion A New Style'). His entry did rather well and he really enjoyed the creativity so he left his job in London and started as a junior blocker at the factory in 1982 and learnt model millinery at the London College of Fashion. Ian very soon appreciated the fulfilment from making hats on a "commission" basis, which in turn gave him an insight into the requirements and trends of the High Street. In 1999 he bought his father out and headed up the family business.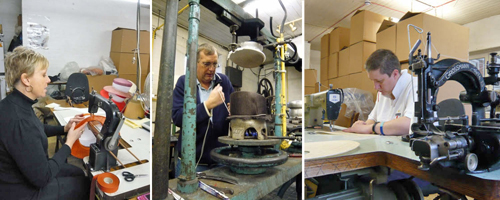 After 100 years of Ian and his ancestors supplying the High Street (John Lewis, Fenwick etc), Ian now concentrates on taking and demonstrating his headwear to the public himself as he believes that hats do not receive sufficient understanding without knowledgeable sales advisors. (If you have ever visited his stand at a Craft In Focus show you will know how knowledgeable he is and how he can find a hat to suit you and advise you how to wear it!)
Ian has made hats for HRH Princess Royal, stage and film productions and many individuals for every conceivable occasion.  He is inspired by people (his clients and friends) and consequently knows what is required to make a good hat and a hat that does what it should.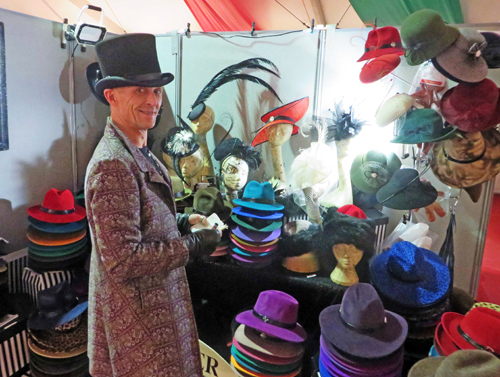 In December 2012, Ian launched his collection of hand painted hats, titled "Hats 'R Art!". Between special commissions, trade orders and exhibitions, Ian lectures to schools, colleges, business groups, social and craft organisations on the history and manufacturing of hats around the country and offers tours of his Victorian hat factory. His favourite topic is "why a hat?...and how to wear it.."
He says "Hats are about theatre, self-expression and fun....They are not an accessory, they are an essential."
Ian has appeared on a number of television broadcasts across England and Europe and a documentary can be seen on YouTube 'Philip Ian Wright: The Mad Hatter'.
Meet Ian and view and purchase his hats at our next events being held in Sevenoaks from 20-22 October, in Crowthorne from 27-29 October and at RHS Garden Wisley from 22-26 November.
You can see more of Ian's work on his website www.hatsbyphilipwright.co.uk