Each month we highlight one of our regular makers, to give you an insight into their work, and to direct you to more information about them.
Sue Lowday – Leather & Metal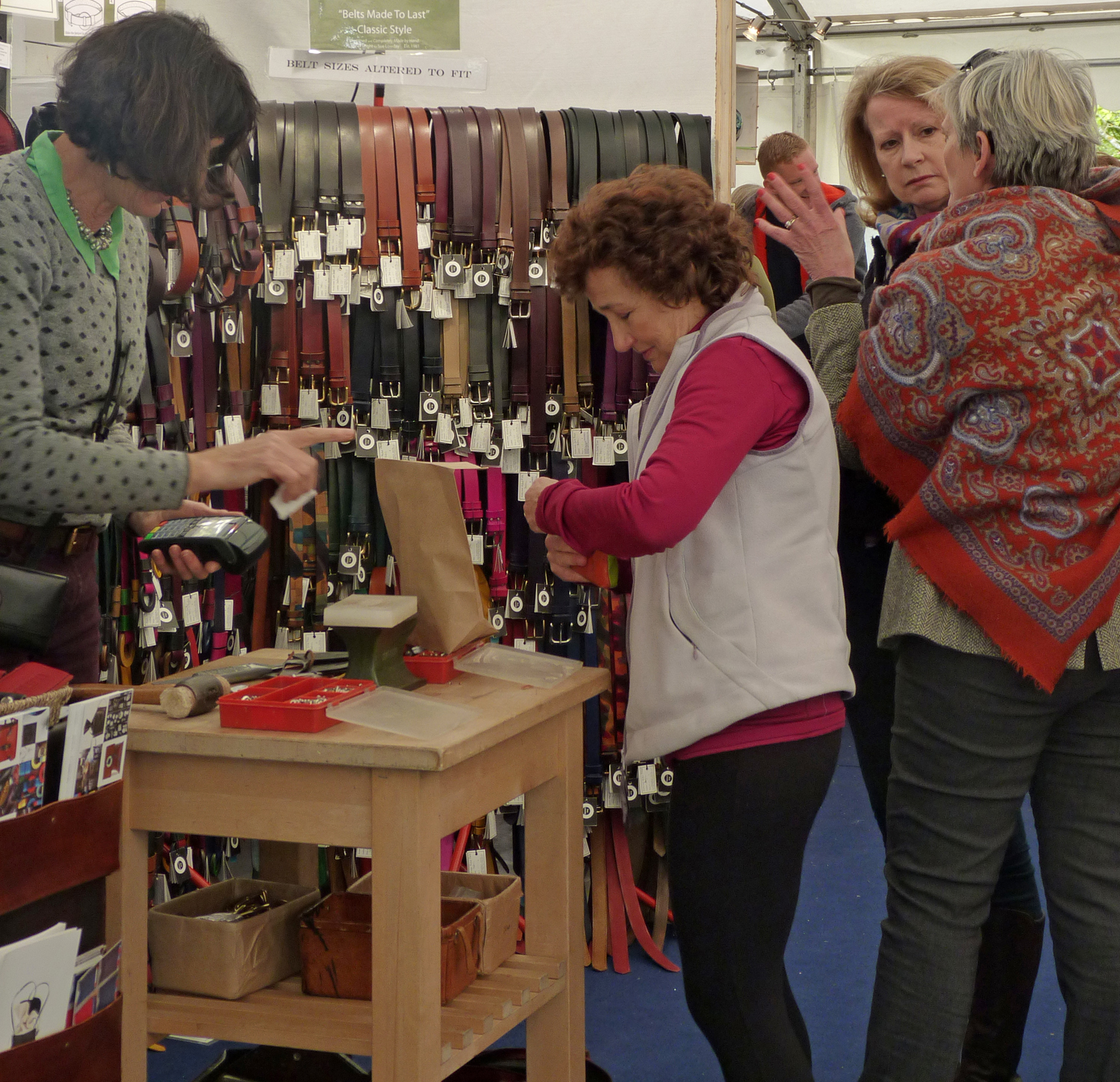 Sue Lowday who has run her business for nearly 30 years, started working in leather when she was offered a range of leather tools. Her first two breaks came making props for the Crucible Theatre and supplying work to Jonathan Silver at Salts Mill in Yorkshire when he opened the menswear shop on the third floor.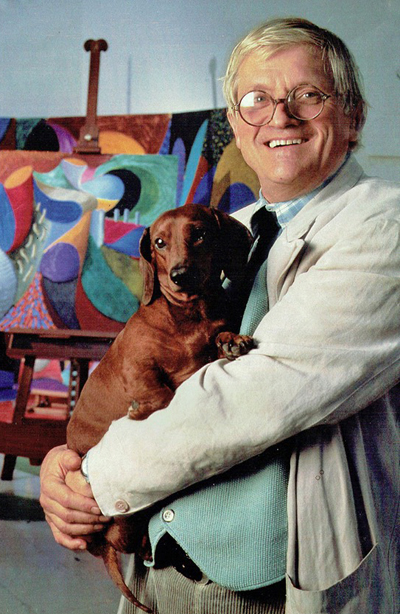 David Hockney has one of the silver buckled belts made to launch the shop, the buckle is by silversmith Keith Tyssen and the belt is made by Sue.
One of her first sales was to Prince Charles when he visited the Cutlers Hall in Sheffield. It was Christmas time and he bought a ¾" wide ring belt as a gift.
Sue originally trained in silversmithing and jewellery and ran a business with a friend supplying jewellery to stores including Next and Harrods. In 1997, she began an MA specialising in large-scale sculptural electroformed metal pieces, many of which are now owned by private collectors in the USA. Several are part of Sheffield Museum's collection along with a sterling silver tea set she made for her final piece when she was a BA student at Sheffield College of Art.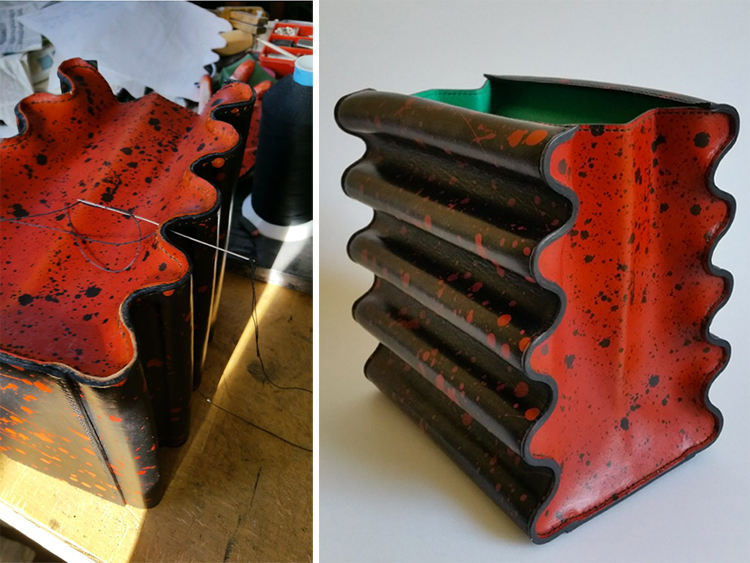 Her ideas for designs for leather pieces developed from metalworking processes finding inspiration in her collection of hand tools. Sue experiments with contrasting textures of different leathers. 'Leather, like textiles, comes in thousands of different qualities and colours and I think it is so important to be able to touch leather to understand those qualities'.
Sue developed a range of bags that contrast textures and experiments with structure. Considerable thought goes into how the bags are held and opened. 'I also want the pieces to be playful and fun' 
Sue is well known for her superb quality leather belts and has made belts for generations of families who look out for her at shows and buy from her online shop. There are over 20 colours to choose from and a variety of over 100 buckle choices. 'Customers are fed up of buying expensive belts that are 'bonded' leather that drop to pieces after a year - my belts are solid leather that give years of wear.'
Sue's pieces are mostly made from top grain (the top surface of the hide) vegetable tanned hide. Cheaper belts are sometimes made from the second or third layer down that is finished to look like the top grain. The vegetable tanning process is a pre-Roman method and is familiar today for its use in the saddle industry. The process differs from chrome tanning which imparts an instant softness to the leather and is seen mainly in shoes and handbags. While the saddlery industry requires very firm leather Sue has sourced Italian vegetable tanned hides that are beautifully supple.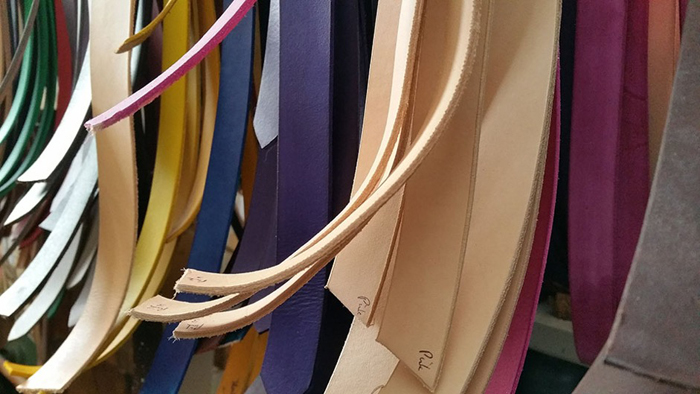 'The beauty of vegetable tanned leather is the superb qualities of longevity.  The leather gets nicer the more you use it gaining a patina, similar to the qualities seen in a well handled piece of wood. I am lucky to have been working with a tannery in Italy for over twenty years. The tannery supplies 'shoulders' measuring approximately 1.5 x 1.2 meters to my specification in two different thicknesses.'  The leather arrives a pale buff colour which Sue grades according to the colours she will dye. Once graded the strips are hand cut into different belt widths.  The four edges are shaved to round the edge, the belts are then sorted into the colours to be dyed.
The dye process is by hand using a cotton wool wad soaked in dye which is smoothed over the belt building up the colour.
The belt edges are hand polished using a traditional mix of hoof and horn followed by beeswax. Three finishing coats including a coat of beeswax and carnauba wax are applied to the surface of the belt. Finally a buckle is selected and fitted to the belt using rivets. Customers visiting Sue at shows can select their choice of buckle and have the belt adjusted to fit while they wait.
Sue is exhibiting with Craft In Focus at Brooklands Museum, at RHS Garden Hyde Hall in August and at RHS Garden Wisley in November.
Further information can be found on: suelowday.co.uk