Each month we highlight one of our regular makers, to give you an insight into their work, and to direct you to more information about them.
Red Shed – Slate and Oak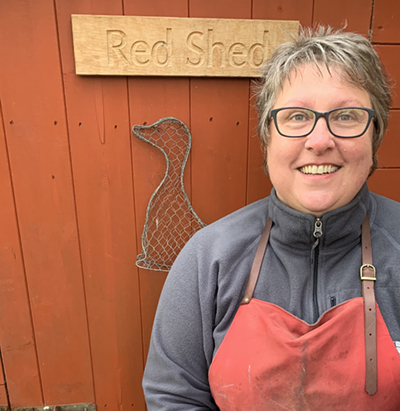 Red Shed is run by husband and wife team Paul and Jo who, from their workshop in the heart of Sherwood Forest, design and make a range of lifestyle products using slate and oak.  Jo established the business in 2011 after being made redundant from a 20 year career as a HR Development Manager.  Certain of not returning to the corporate sector Jo spent three years doing extensive research into the handmade sector whilst also completing a number of workshop courses at her local college.
From a very young age Jo enjoyed making things and could often be found either making perfume from mashed flower petals in her garden den put together using old bed sheets and broom handles, or in her grandfather's workshop trying to emulate his carpentry skills.  As design had always featured in Jo's role within HR, it seemed an obvious choice to combine her love of making with her eye for design and start up as a maker.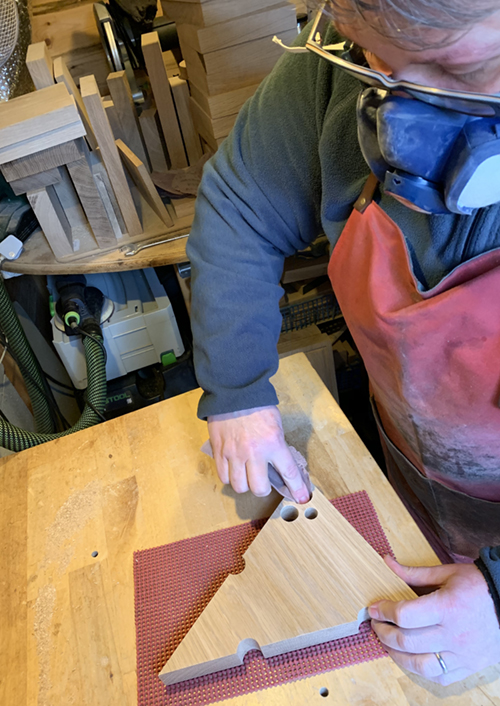 The initial choice of material was inspired by Jo's Welsh heritage and still today they use Welsh slate from the quarries in North Wales; blue-grey from Blaenau Ffestiniog and heather-blue from Penrhyn.  Jo cut her first piece of slate in late 2011 using a traditional slate guillotine, a piece of equipment that she still uses alongside her trusty pair of snippers for intricate cuts or shaping.  Jo favours this manual method of cutting slate as it produces a dressed or feathered edge which she believes adds character to an already interesting material.  Over the next 4 years Jo spent time honing her skills and developing her product range whilst also dedicating some of her time to researching the possibilities of adding wood to her range.  It was only when Paul joined the business in 2015 that they were able to expand and add an oak range to their collection.  Their choice of wood was largely inspired by where they live and being so close to the mighty oaks of Sherwood made it an obvious selection.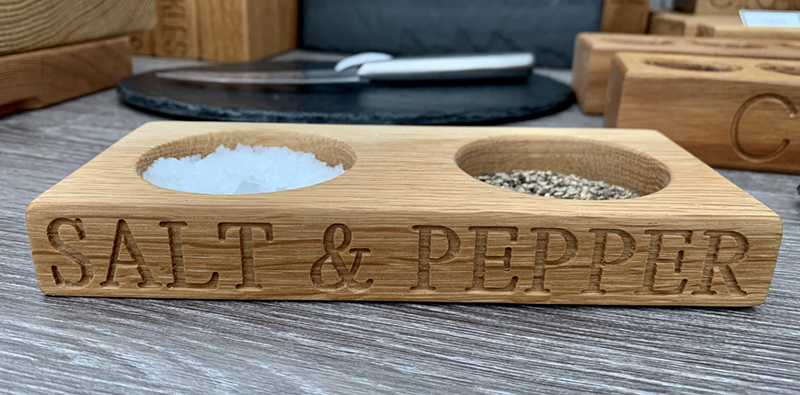 Much of their work features engraving and whilst they use machinery for this aspect of their work, many other processes are completed by hand with every piece being individually made.  Working with materials that have natural characteristics enable them to present their products in such a way that you can recognise the raw material from which it is made, but equally can appreciate the transformation from its original state.  Their approach to design is simple, the same today as it's always been; they like to create stylish, yet simple products that are pleasing to the eye, and above all, are practical in a traditional or contemporary home.
As well as producing a range of products from their own original designs, they offer a personalisation service enabling clients to add that extra special touch as well as a bespoke design service that enables the client to have their own individually commissioned piece made to the dimensions and specification they require.
Red Shed are exhibiting with Craft In Focus at West Horsley Place (27 November – 1 December) and will be at many of the Craft In Focus events during 2020.
For further information, see www.slateandoak.co.uk